Panasonic Compact Hi-Fi System Round-up | Powerbutton
Our latest Powerbutton blog uncovers the features and benefits of the latest Panasonic compact stereo Hi-Fi systems. Here we take a look at five of the most popular home entertainment systems to give you a clearer understanding of the specifications they offer.
Firstly, let's look at the Panasonic SC-HC200 Hi-Fi system. This model is a popular stable for Panasonic with a stylish, slim design with 2 integrated speakers. The CD drawer is motorised and allows you to simply slot your favourite album onto the bed when the door is opened. A digital display provides you with the information from CD playback to FM preset. It's good quality sound comes from an integrated amplifier which brings you 10 watts per channel (RMS) from each speaker that is designed not to distort when increasing the volume.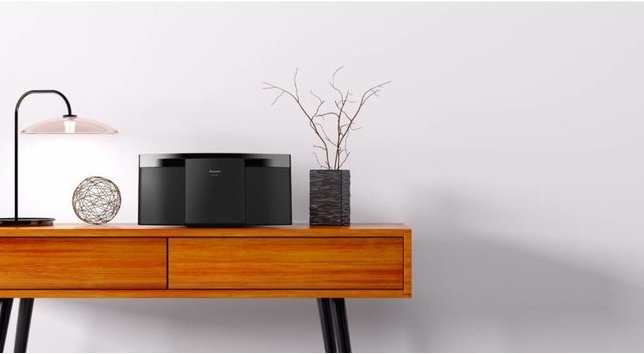 With built-in Bluetooth you can send music from your smart phone or bluetooth enabled device wirelessly to the unit. This opens the up the possibility to be able to stream your favourite music content without having to rely on CD or the radio. Complete with remote control for ease of use, this mains powered unit is a compact system which is great for living rooms, dining rooms or even bedrooms.
Next, we have the higher spec version of the SC-HC200 - the SC-HC302. This model takes the core features of the SC-HC200 and adds a few more to give a higher specification. This unit boasts a premium look and design with a metal speaker casing, auxiliary input do directly connect your external device and a DAB radio for digital audio radio stations. The SC-HC302 is also wall mountable for a discreet installation thanks to it's slim design. Whilst the sound quality is similar to the SC-HC200, this model also has the Panasonic LiNCS-D amplifier to provide distortion free audio.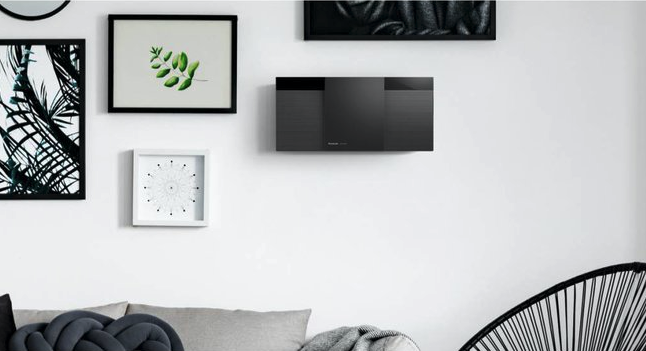 Another popular Panasonic system is the SC-PM250EBS which is traditional 3 piece compact Hi-Fi system. This model provides a central amplifier, CD deck, FM radio and Bluetooth connectivity as standard. It's 2 speakers supplied are wired to the main unit giving a full 10 watt (RMS) per channel stereo experience. With the ability to adjust both the bass and treble, you can harmonise the acoustics of the sound to your liking. Plus for more connectivity, Panasonic have added a USB socket to allow you to connect your USB device for audio playback of MP3 files. Complemented with a remote control for ease of functions, the SC-PM250EBS is a great solution for most home environments.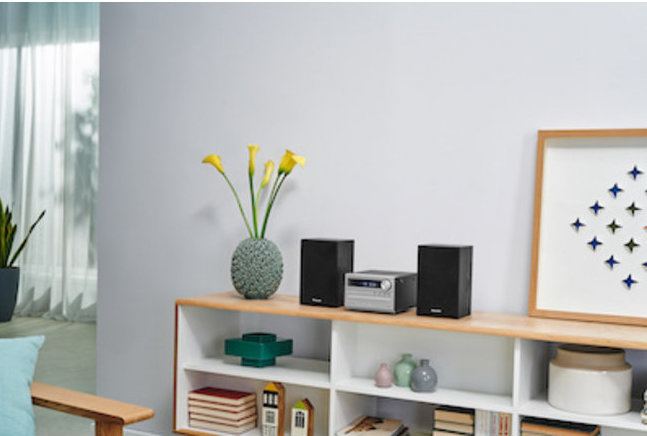 For choice, Panasonic have also developed the SC-PM250BEBS. Whilst this unit is essentially identical to the SC-PM250EBS there is a subtle difference. The Panasonic SC-PM250BEBS also provides the handy addition of a DAB tuner alongside the other common features. Therefore you can also access digital radio stations in your area for enhanced choice and radio audio performance.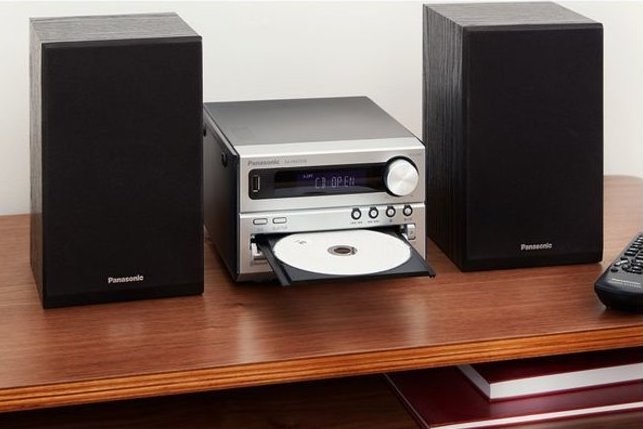 Finally, let's look at the newest model to be launched by Panasonic - the SC-DM502. This is Panasonic's premium audio stereo solution which provides not just high quality sound but a range of features to match. The SC-DM502 provides a powerful 20 watt (RMS) output to it's integrated speakers with a wooden chassis to add higher quality, natural sound.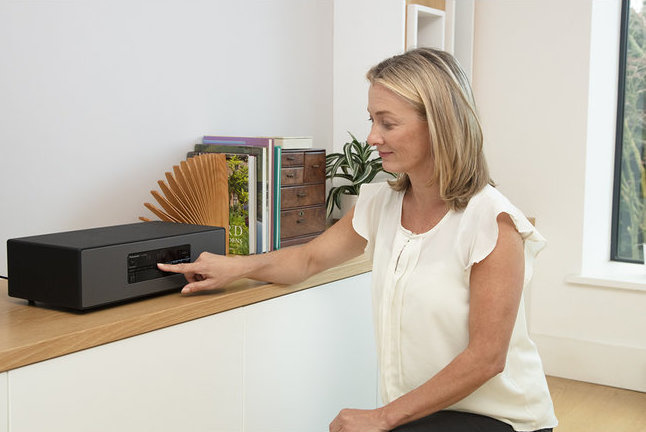 The aero-dynamic port helps to deliver smoother airflow and reduce air turbulence. The compounded effect of the wooden enclosure and the aero-dynamic port results in stronger and accurate low frequencies.
This unit provides integrated, front loading CD player operation for ease of use. It also boasts a DAB+/DAB & FM tuner to provide high quality digital and analogue radio stations. It has bluetooth connectivity which also allows you to connect your smart device wirelessly and play music to the system with ease. 
As an authorised Panasonic dealer, Powerbutton recommends all of the Panasonic compact Hi-Fi stereo systems. All of our systems come complete with a full 12 month warranty for piece of mind. Seen it cheaper elsewhere? Don't forget that Powerbutton also gives you our Price match promise.
You can chat with us online, email or phone 01275 848180 for further information, guidance or support.