New Panasonic TV & Audio range for 2020
At Powerbutton, we are always looking at the latest technology from top name brands. Here we give an insight to the the new range of Panasonic TV and Audio for 2020. We start with the Hollywood tuned HX800 LED TV
HX800 LED 4K HDR SMART LED TV's.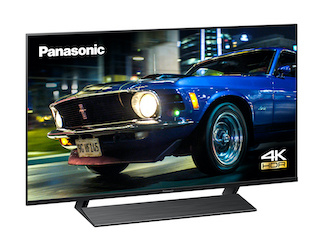 The new HX800 4K LED TV features an HDR Bright Panel PLUS to display colourful 4K HDR pictures. Thanks to Dolby Vision and HDR10+ Dynamic Metadata technology, with Local Dimming this slimline TV delivers detailed pictures with accurate contrast. Because it uses our HCX Processor, with Hollywood picture tuning, you can be certain of a solid performance.
Panasonic support advanced HDR Dolby Vision and HDR10+ as well as, HDR10 and Hybrid log Gamma, meaning this TV can play more HDR content than most other TVs. HDR allows the viewer to have brighter highlights and a wider range of colour detail, for a effective image overall. Immersing you into the action, whether that be a live sport game or the season finale of your favourite drama.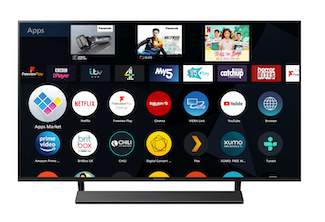 Panasonic's custom made smart menu gives you fast and easy access to the key apps (many in 4K) such as Netflix, You Tube, Amazon, Video, Brit Box Rakuten and much more. You can also access Freeview Play from the Home Screen, for a wide range of your favourite UK catch-up services.
As standard the HX800 range supports Freeview HD via a TV aerial for high definition viewing of your favourite tv channels. The range also gives Dolby Atmos advanced sound processing so that you can enjoy cinematic sound from each of the shows that you watch.
The HX800 line up is available in 40", 50", 58" and 65" screen sizes starting from just £699 for the 40" version. Order from Powerbutton and receive a FREE Panasonic 5 year manufacturers warranty. We offer free next day delivery for the 40" and 50" models and a free 2 day delivery service for the 58" and 65' models. 
HTB400 Soundbar
It's not just TV's that have taken a step forward for Panasonic in 2020. Take a look at their new 2.0 all in one soundbar...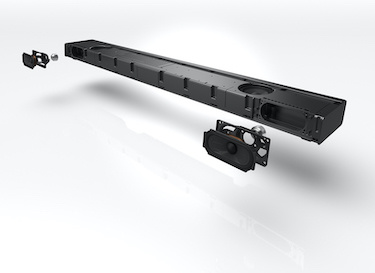 Immerse yourself in an optimum cinematic experience with the new Panasonic SC-HTB400EBK Soundbar with Bluetooth and built-in subwoofer. Stream music wirelessly, and enjoy optimum sound delivery whether wall-mounted or not. The SC-HTB400EBK will enhance your viewing experience at home.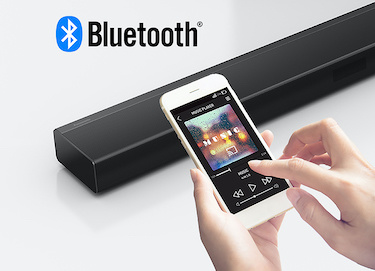 With 160watt power output, the Panasonic SCHTB400EBK is an exceptional home theatre Soundbar that delivers a powerful, rich sound from all directions so you can enjoy an optimum cinematic experience from the comfort of your own home
Stream your favourite music wirelessly from your smartphone, tablet or other devices through Bluetooth connection. Even connect wirelessly to a Bluetooth enabled TV
If you choose to mount your Soundbar to the wall, the sound direction automatically corrects itself when detecting the angle of placement, ensuring you always receive an unrivalled listening experience. Small wall mounting brackets are included in the box.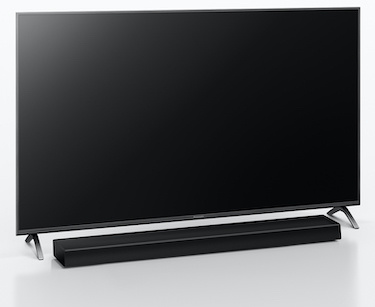 Experience the best across all ranges with our clear-mode dialogue technology which enhances the clarity of speech in the sound mix, bringing to you an exclusive high-quality cinematic audio.
The Panasonic SC-HTB400EBK is a great all-in-one solution designed to give powerful sound, with clear dialogue and bluetooth capability. You can order now from Powerbutton or speak to one of our team on 01275 848180 for more details.
SC-TMAX5 Wireless Speaker System
Looking for a wireless audio solution for your garden party? The SC-TMAX5 is a great portable speaker that can run from the power of your smartphone*! If you are looking to party, then the TMAX5 also has flashing interchanging coloured lights to bring a great atmosphere to any event. 
Bluetooth as standard. Allows you to stream your favourite music from your smart device to the TMAX5.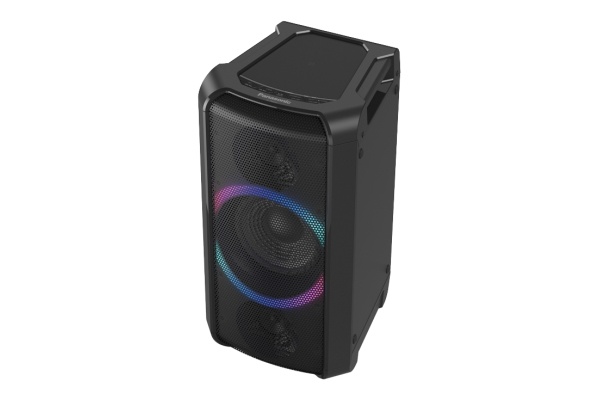 The TMAX5 can be placed vertically or horizontally, and flexible installation ensures it fits your room layout and usage needs. Carry it around freely, put it in any available space and let the music play!!
The TMAX5 is optimal not only for parties but also for listening by yourself. The compact body equipped with built-in handles is power bank compatible*, so you can easily carry it around anywhere.
The TMAX5 supports "Qi"*, the international standard for wireless power supply. Charge it fast by simply placing a Qi-compatible smartphone on top of the TMAX5. Whether partying with friends or grooving to your favourite tunes on your own, the music keeps on playing. *Up to 10W. For Qi Compatible Smartphones.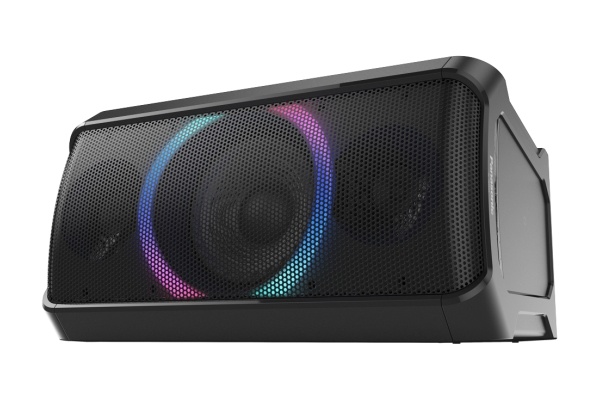 The Bass Reflex Port of the TMAX5 is carefully tuned so that efficiency of the speaker's lowest frequency is optimised thus enhancing the bass. In addition, the TMAX5 is equipped with a 16cm woofer with Dual Drive system, which delivers more powerful sound. It also features two 5cm tweeters, for clear playback of high-frequency sounds as well.
*Use Power Bank with Output Power 2 A or Above, 5 V. Sound Performance: less than 50% of AC Operation.
Keep checking back for our latest blogs for the latest news and information. Don't forget we offer free tracked next day delivery, 30 day returns and a price match promise to ensure you are getting the best deal, all of the time. Call Powerbutton, chat online or email [email protected] for more information.