Powerbutton's Sonos Move Speaker Review
Sonos is a brand that is known for delivering high quality audio, period. That is why when they introduced the Sonos Move and the Sonos ONE SL, everyone got excited. We are already spoilt for choice with the different Sonos products available, such as the Sonos PLAY:1, the Sonos Soundbar, and the powerful Sonos Sub.
It's a real positive to see that Sonos are still able to innovate in a market and innovate is what they do best. They've arguably dominated the indoor speaker market, even though there has been competition from others. Now they've set their sights on the portable market, with several brands benefitting from this "on the move" target market. The Sonos Move is regarded as Sonos's most versatile speaker.
Sonos Move Sound Quality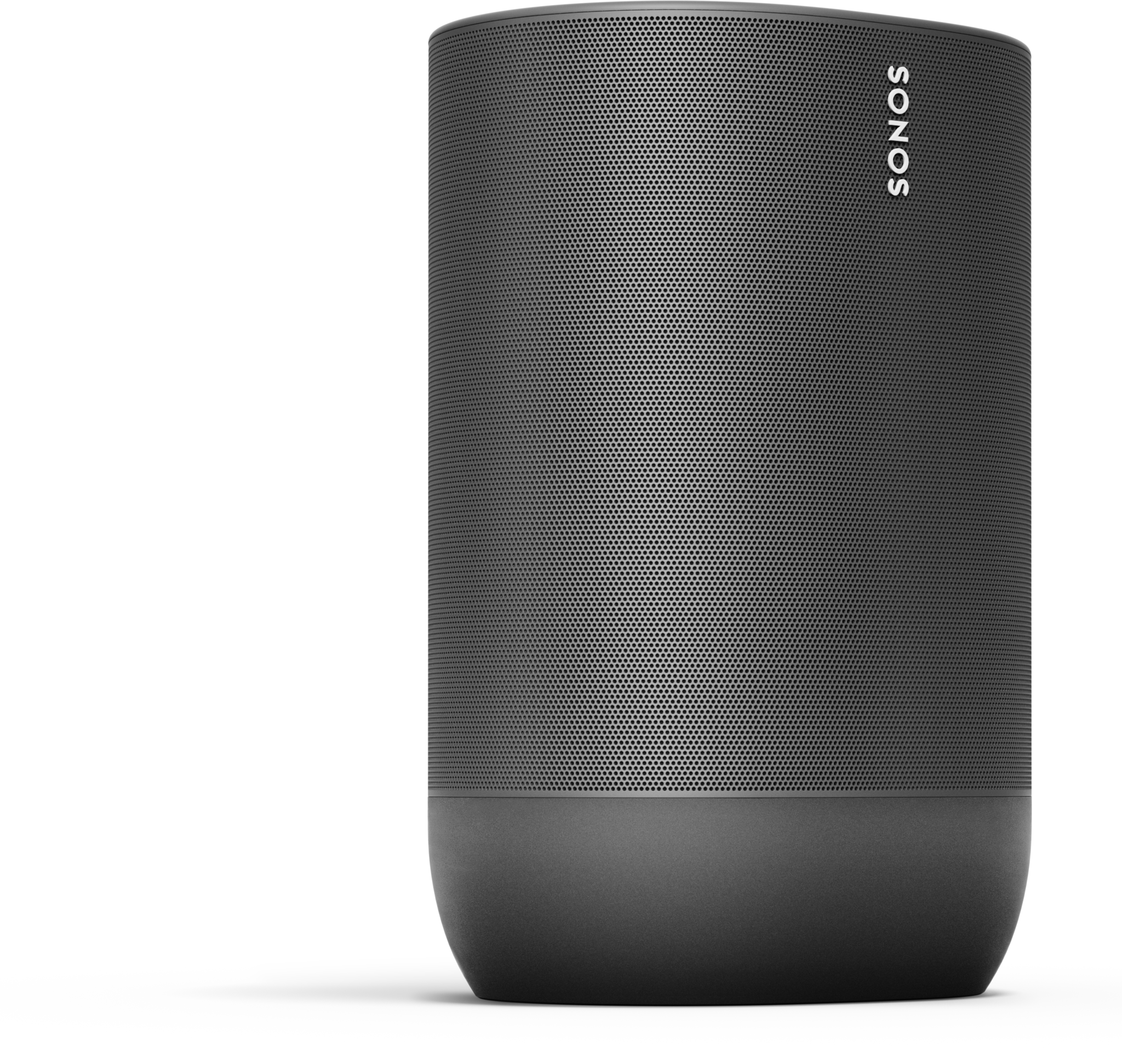 The first thing that comes to light is the very loud volume levels that the Sonos Move can achieve. Consider a garden party becoming a garden party. No more looking for additional speakers, or trying to jack your phone to multiple speakers, the Sonos Move boasts volume levels to satisfy your ear buds. Whether you want to have this in your room, the garden, or park, you can be sure to get satisfaction from the Sonos Move.
Does The Sonos Move Have Bluetooth & Wi-Fi?
The Sonos Move supports Bluetooth and Wi-Fi at 2.5GHz and 5GHz. It also has Apple Airplay so it can connect with ease and you can play music without being interrupted by phone calls. The Bluetooth mode allows you to share audio from your device, be it a game, music, or even a voice note. Being a portable wireless speaker, you can charge your Sonos Move and expect an average battery life of 10 hours per charge cycle. That's enough to listen to several albums on repeat. Just note that the louder the volume, the quicker the battery will finish. But have no fear, the Sonos Move charges incredibly fast, you can charge this smart speaker for an hour to juice it up to 50% or leave it for around three hours for a full charged Sonos Move for the move!
The Sonos Move should last around 3 years or 900 charges before the battery starts to wear out. Now instead of buying a replacement Move, you can buy a replacement battery, which we believe is a really cool feature that Sonos has thought about. 
Is the Sonos Move Waterproof?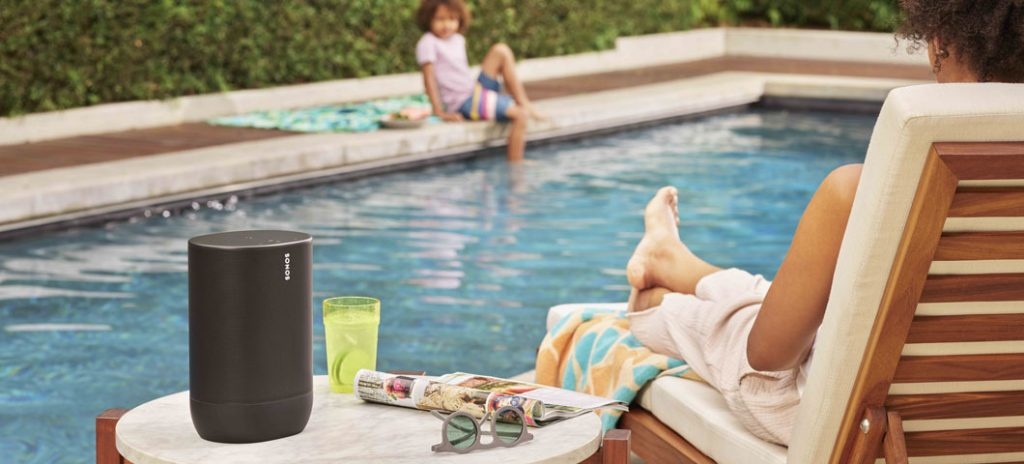 Imagine taking your portable speaker to the garden or to the park and suddenly, the clouds turn grey and you forgot your speaker brolly… is there a speaker brolly? Well with the Sonos Move, you do not need to worry, as it has an IP56 waterproof rating. In case you want to google "what is IP56 waterproof rating?", we'll saving you the hassle.
IP56 rating means the Sonos Move is protected against harmful dust and protection from strong water jets. This means your Sonos Move will remain operational at the strongest Spring or Autumn showers, and of course the occasional Summers. Just remember that it's only the Sonos Move itself that's weatherproof, not the other components. If you want to charge it, you should do it indoors as the charging base is designed to be used indoors. It's also ultra-durable, which means you do not need to worry about accidental drops or bumps due to the high-quality build.
Can the Sonos Move Connect With My Apps and through Voice Control?
What's a speaker in 2019 without app integration? That's what separates Sonos from other speaker brands. Apart from the standard Sonos App, you can get direct access to all the top music services including Spotify, Tidal, Amazon Music and Apple Music.
It's always nice to say "Alexa, what's the update on my order?", or "Hey Google, is it going to rain tomorrow?". Whether you use Alexa or Google Assistant, or even if you use both, the Sonos Move speaker has you covered. The Sonos range is great in integrating current features and the Sonos Move boasts voice assistant features which can be activated when connected to Wi-Fi. It's important to note that voice control works only when connected to the Wi-Fi and not through Bluetooth.
Buying the Sonos Move From Powerbutton
Sonos speakers are often paired with each other to create an immense experience. The Sonos Move can paired with another Move to create a stereo pair. However, you cannot use them as home cinema surrounds unlike the other Sonos Products.
If you are thinking whether the Sonos Move is right for you, then you need to look at the purpose of the speaker. The Move allows you to operate it inside, and outside. You can take it with you on journeys, and it has a long battery life. Just to let you know, the product weights 3kg so it is considerably heavier than other portable speakers. The Sonos Move speaker is priced at £399, so it is more expensive than other portable speakers, but you are really paying for a high-quality build, sound quality, and features. As an authorised reseller, you can buy it directly from us at Powerbutton and get 2-years warranty as standard. Also, if you find it cheaper elsewhere, we'll match it with our Price Match Promise*.