Sanus Accessory Round-up | Powerbutton
In this Blog we take a look at the latest accessories to enhance the look of your Sonos speaker from American brand - Sanus. With a heritage of high quality mounts for a variety of purposes, this well known brand continue to support Sonos with a selection of brackets and stands to give you solutions for your equipment.
First, we take the Sanus WSSATM1 BTV mount bracket for the Sonos Arc soundbar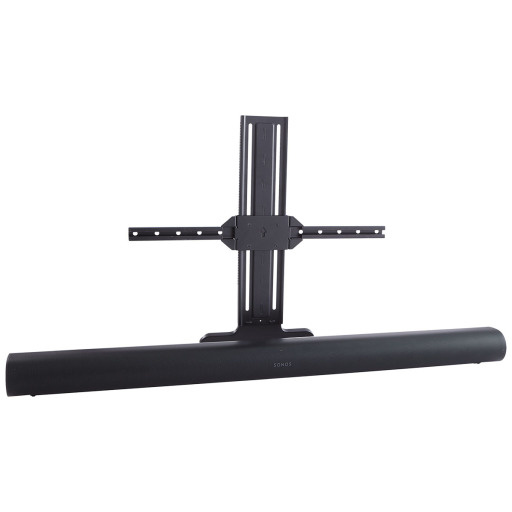 SANUS designed the Soundbar Bracket for Sonos Arc in partnership with Sonos. This premium soundbar mount was created to attach directly to your TV mount for a seamless look. It features a universal design, attaching directly to most TV's 50"-90" and is compatible with other TV mount brands. If used with a full-motion mount, your Arc easily moves in sync with your TV.  Featuring an easy assembly process, this soundbar TV mount for Arc requires limited tools, no drilling additional holes in your wall, all the hardware you need is included in the box, and only takes 15 minutes to set-up.
Sanus also produce the WSSAWM1 in both White an Black to mount your Sonos Arc directly to the wall: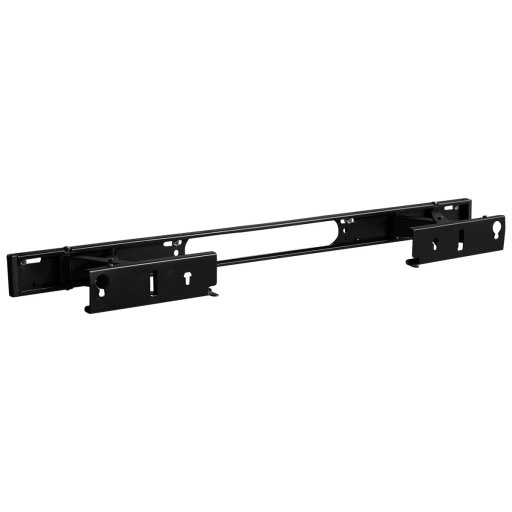 SANUS designed the Soundbar Bracket for Sonos Arc in partnership with Sonos to create a premium, custom-fit design for the most optimal audio experience. This  soundbar mount features a modern design that installs directly on your wall underneath your mounted TV.  The extendable soundbar mount for Arc easily pulls out 5" from the wall to easily adjust the depth; allowing for the sound bar mics and Atmos drivers to give the best sound possible no matter how thick your TV is. Easy to install in drywall or wood studs in just 15-minutes, and all the hardware needed is included in the box to wall mount your Sonos Arc soundbar.
Sanus have developed the WSSBM1 TV mount bracket for the Sonos Beam which is one of our best selling speaker brackets:
Seamlessly integrate Sonos Beam with your mounted TV with the Soundbar Mount for Beam. The 12" of height adjustment ensures an ideal fit between Beam and the bottom of your mounted TV for a clean, streamlined look, and the intuitive Smart Latch™ allows for speaker height adjustment with just the lift of a finger – no tools required. 

Compatible with SANUS TV mounts and other mount brands, the Soundbar Mount for Beam works with a large range of TV sizes and features broad VESA compatibility. When used with a full-motion TV mount, the soundbar mount allows Beam to move with the TV for an optimal listening experience. 

Developed in partnership with Sonos, the SANUS mount for Beam is custom-fit to Beam ensuring optimal speaker performance and unobstructed access to speaker ports. Installation is a brief, 15-minute process that requires only a screwdriver, and all necessary hardware is included in the box.
Next up we take the Sanus WSSA1 Height Adjustable Speaker stands for the Sonos One/One SL and Play:1 speakers: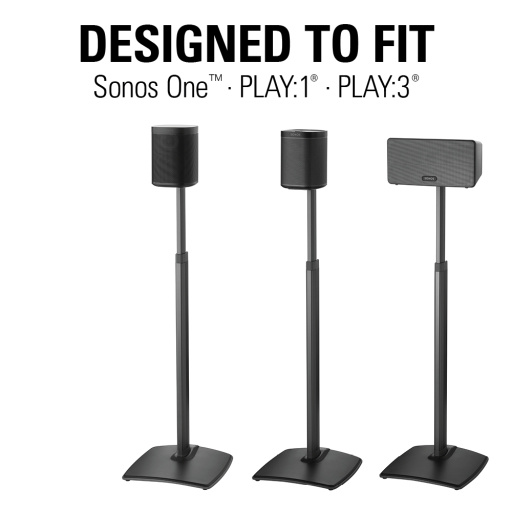 The SANUS WSSA, Height-Adjustable Speaker Stand, fits the Sonos™ ONE, Sonos One SL, PLAY:1 and PLAY:3 wireless speakers. Offering 16" of effortless sliding height adjustment and compatibility with the Sonos PLAY:3 in either horizontal or vertical orientation, the WSSA is sure to deliver optimal audio performance regardless of your listening needs. Durable, anodized aluminum construction not only resists wear, but also perfectly complements Sonos speaker aesthetics for a sleek, seamless look. Stands are sold as single pieces or in pairs to accommodate any sort of system arrangement, be it home theater, surround sound, or ambient listening. For a completely cable-free solution, our Press Fit cable management technology secures cords down the back of the stand for concealment. Assembling easily in 15 minutes and featuring 16" of tool-free height adjustment, you'll be enjoying perfect sound from this sleek stand in no time.
Finally we look at the Sanus WSWM21 Wall mount speaker range for the Sonos One, One SL and Play:1 speaker: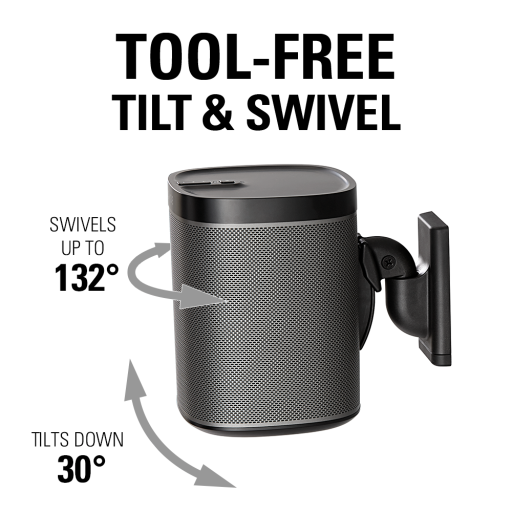 Enjoy optimal audio quality from anywhere in the room with the SANUS WSWM adjustable wall mount, designed especially for the Sonos ONE, Sonos One SL, PLAY:1 and PLAY:3 as well as other wireless speakers weighing up to 10 lbs. Installing to drywall, wood studs or concrete in only 15 minutes and boasting effortless tilt and swivel capability, the placement flexibility of the WSWM makes it versatile enough for any system setup and for voice integration technology like that of the new Sonos ONE. Wary of mounting your new Sonos ONE to the wall? Rest assured that your speaker will stay safe and in-place thanks to exclusive InvisiGrip™ technology: Two ultra-thin yet ultra-strong, virtually invisible wires wrapping around the top and bottom of your speaker to keep it snugly in place.
Discover the latest range of Sanus accessories from Powerbutton today. Chat online, call us on 01275 848180 or email us: [email protected] for more information.