A Guide to our Sonos 5.1 Home Cinema Speaker Bundles
In our latest blog, we bring you a guide to the very latest Sonos speaker packages which we have hand picked to give you the best smart home solutions. We also take a look at some Sonos speaker and accessory bundles from Flexson. We also stock a range of accessories from Sanus and Nova to give you a great choice of packaging options. From the Sonos Arc premium Dolby Atmos soundbar home cinema bundle to the Sonos One SL twin pack bundle, Powerbutton gives you this free blog to help you decide...
We start with the home cinema bundles....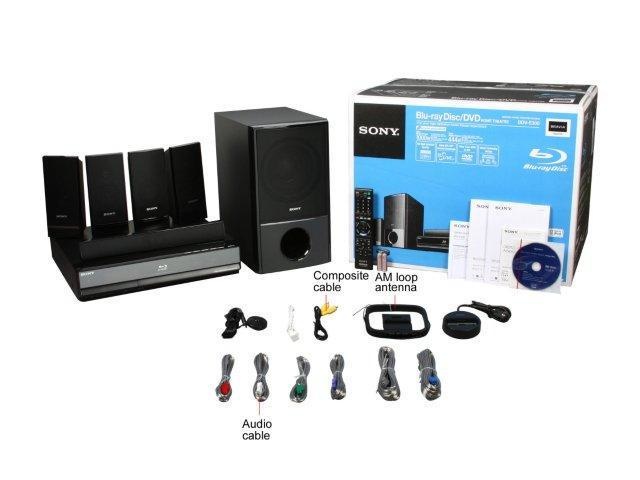 Traditionally, home cinema systems always comprised of an amplifier which may have featured a radio and or a blu-ray or dvd player. From this central processing unit you would then have a plethora of cables to a centre speaker, left, right, and 2 rear speakers. Often seen as a cabling mess, the home cinema was always seen as a "wired" solution. 
Sonos are a world leading smart home audio speaker specialist who has seen the cracks with the traditional system. Sonos have developed their own wireless speaker systems which cut all the cabling, fuss and mess from the traditional speaker system. No more radio dials and displays, no more centre box with a dvd or blu-ray player built-in, no more cables around the room. How?
Using the latest technology, Sonos have built-in 2 awe inspiring all-in-one sound bars. One box which sits below or in front of your existing television, throwing the sound toward you which many modern televisions fail to do. From the Sonos Beam (generation 2) featuring 3 powerful speakers to the Sonos Arc with it's amazing and powerful 11 speakers, Sonos have developed these bars to suit the size of TV screen and the size of room. For the smaller setting, the Sonos Beam is the firm favourite and for the larger TV (50" plus) we recommend the Sonos Arc.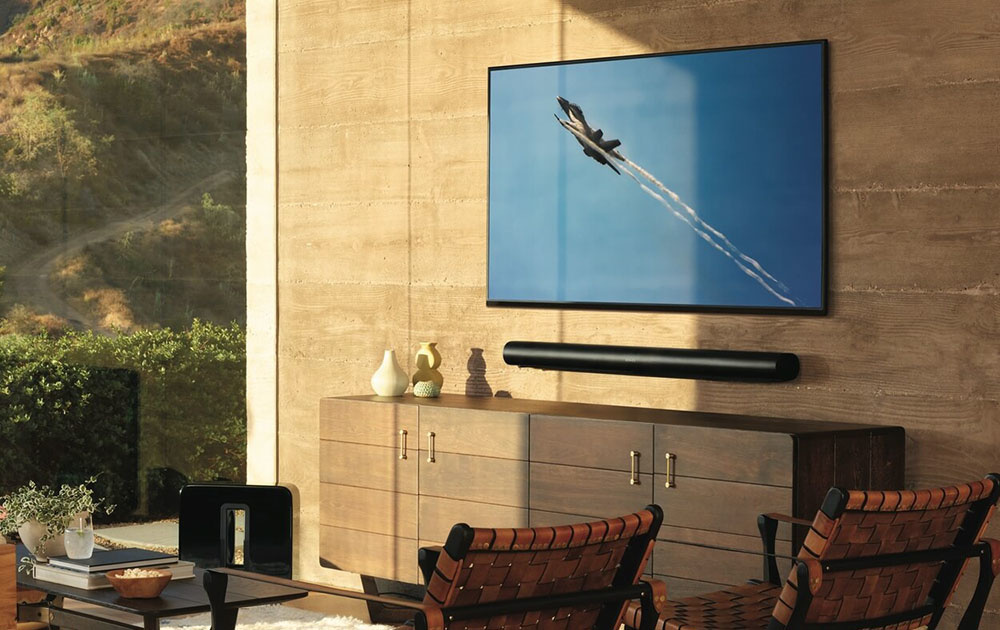 But how do create the 5.1 home cinema experience?
Today, both the Sonos Arc and the Beam connect to your modern OLED/LED or LCD TV using a supplied HDMI cable. This then carries the audio from your TV to and from the sound bar (HDMI ARC connection required on the TV). Once connected to the mains power supply (power lead included) you can then setup your bar with the TV using the latest free Sonos S2 app (download form the Google Play or Apple App store).
The bar gives you the fronted sound but what about the rears? Powerbutton stocks both the Sonos One SL and Sonos One (Gen:2) bookshelf speakers which can be stereo paired as a set or can be used as rears for the Arc or Beam sound bars. The great news is that there are no speaker cables from the sound bar to the rear speakers. Each speaker would need mains power (supplied) and would then connect wirelessly to the bar using the Sonos S2 app. If you struggling to house the rear speakers, Powerbutton stocks both wall mount speaker brackets and floor stands in various designs.
Once connected to your bar, you then have a very good 3 speaker setup. If you are not wanting the extra bass then you could keep this as your home cinema setup. Powerbutton stocks this solution both for the Sonos Arc and Sonos Beam. These are the following bundles:
Sonos Arc & 2x Sonos One SL Speaker Bundle 
or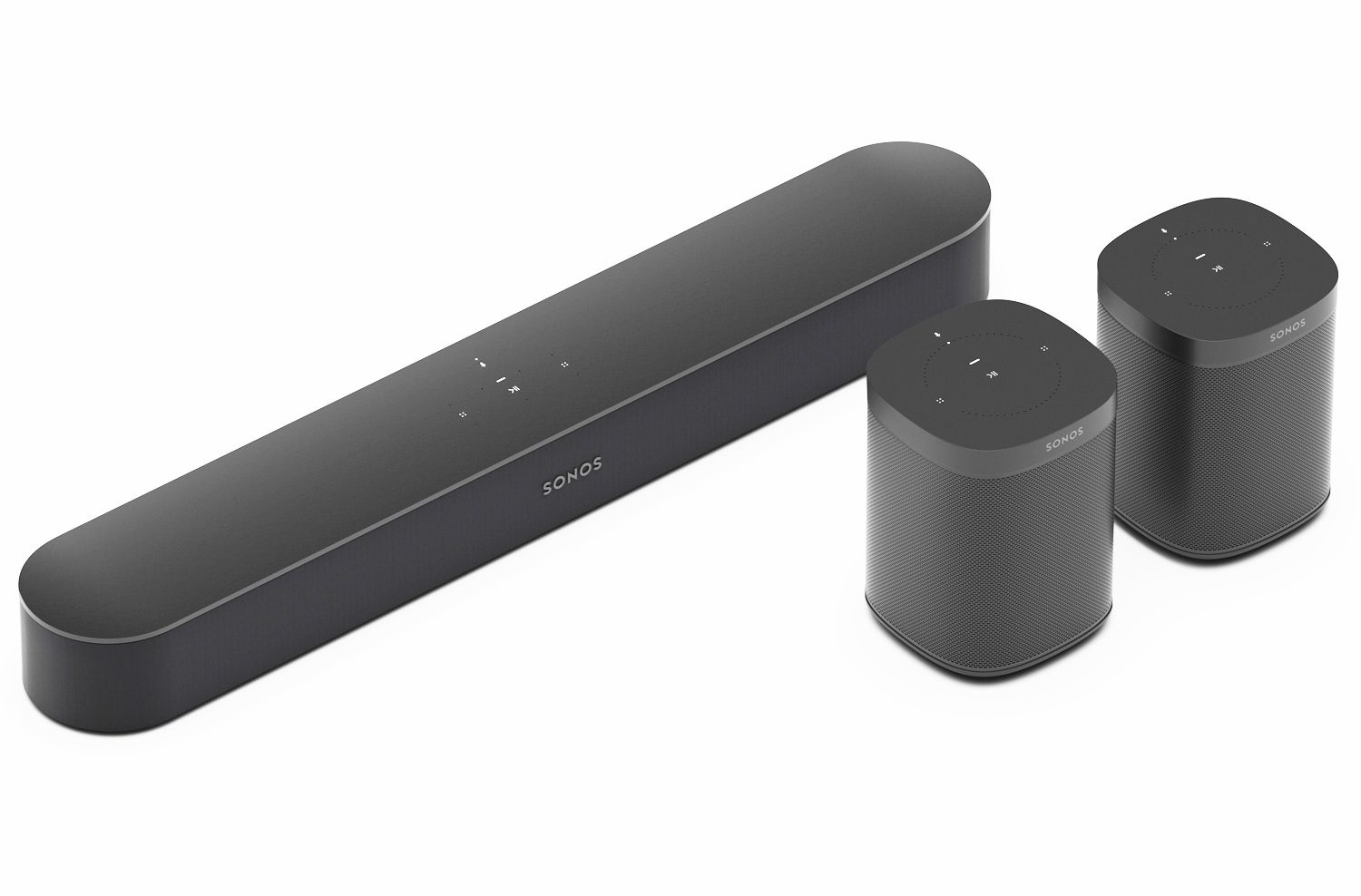 Sonos Beam & 2x Sonos One SL Speaker Bundle
If you are looking for the ultimate 5.1 solution, then add the Sonos Sub (gen:3) wireless subwoofer to this 3 speakers and you have a full and enriched cinema system. How?
The Sonos Sub (Gen:3) is another wireless device so no speaker cables from the sound bar to the unit. Therefore we suggest to site the subwoofer to a corner in-front (not recommended behind you) and connect to the mains as per the other speakers. Using the Sonos S2 app you can then complete the set-up and enjoy powerful bass from this complete system. Again, Powerbutton give you the solutions for both speaker set-ups: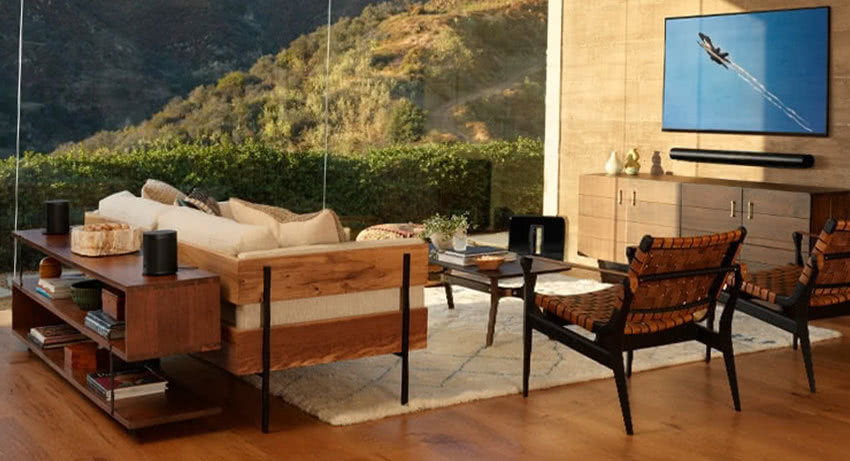 Sonos Arc, Sonos Sub (Gen:3) & 2x Sonos One SL Speaker Package Bundle
or
Sonos Beam, Sonos Sub (Gen:3) & 2x Sonos One (Gen:2) Speaker Package Bundle
Sonos can also give you a fuller sound from stereo paring 2 speakers together. Both the Sonos One SL and Sonos One (Gen:2) speakers have this facility whereby they can link together and provide the same benefits as 1 speaker spread over a wider area. The difference between these packages would be the functionality for Alexa or Google Assistant voice control.  The One (Gen:2) offers the voice control feature unlike the One SL speaker. Discover more detail regarding these speaker packages by clicking the following links...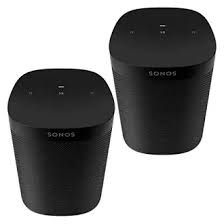 Sonos One SL 2 Pack Speaker bundle
or
Sonos One (Gen:2) 2 Pack Speaker bundle
With all of these speaker bundles, Powerbutton offers free tracked next day delivery, free Sonos manufacturer 2 year warranty, 30 day returns and expert advice from a family run business.