Sonos Playbase Soundbase
The all new Sonos PLAYBASE all in one sound base adds pulse-pounding, full-theater sound to all your movies, TV shows, sports and games–and it wirelessly streams your favourite music, too. Its slim, low profile design practically vanishes beneath your TV, yet it fills your entire viewing room with spectacular widescreen sound you just can't miss. 
It is part of Sonos, the wireless Home Sound System that fills as many rooms as you want with great-sounding tunes.
It's a new, better way to fill each day with the sounds you love.
One app. Complete music control.
The Sonos app helps you quickly search through all your services to track down favorite music, send it to different rooms, and adjust the volume and other settings. You don't even have to be in the same room. And if your friends have the Sonos app, they can do the same.
Over 30 music streaming services available.
Sonos plays everything–the most popular streaming services, on-demand Internet radio, your favorite podcasts and audiobooks, your go-to collection of downloads–whatever you love to listen to.
Dialog enhancement.
Having a hard time hearing what's being said? Sonos PLAYBASE sound base uses custom drivers to deliver crisp, clear dialog to the centre channel where your ears can best discern it. Need even more clarity? Turn on Speech Enhancement to keep the dialog at a consistent level and reduce the volume of any loud sound effects.
Night mode
Watching late at night and don't want to disturb the rest of the house? Turn on Night Sound. At lower volumes, quiet sounds are enhanced and the intensity of loud sounds is reduced.
Two cords. That's it.
One power cord. And one optical cord that connects to your TV. You don't even have to read a manual because the Sonos app guides you through every step of the setup process. Including connecting Sonos PLAYBASE All in one sound system to your WiFi so you can stream your favourite music.
Plays everything.
Cable boxes. Gaming consoles. Satellite boxes. Blu-ray players. If it's connect to your TV, Sonos PLAYBASE all in one sound system will play it.
Widescreen sound. No wall mount required.
Sonos PLAYBASE all in one sound system securely supports TVs up to 75 lbs. Which covers just about any TV that comes with its own stand.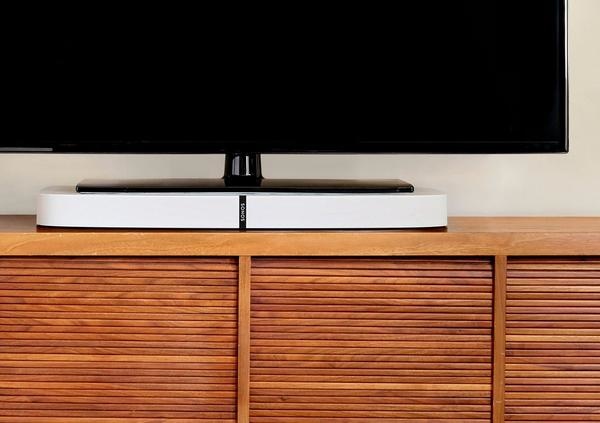 Expand beyond the TV room.
Sonos PLAYBASE sound base makes movies, sports, TV, games, and music come alive…but just in one room. Add more Sonos speakers to your home and you can listen to what's playing on your TV in any room.
Grows to 5.1 with zero drama.
Sonos PLAYBASE sound system is just the beginning of the ultimate home theatre experience. Add a Sonos SUB for soul-shaking bass. One less remote to worry about.
Sonos PLAYBASE all in one sound systems works with almost all TV, cable box, and universal remotes by learning their infrared (IR) commands during setup. The remotes you have are all you need.
Get Free delivery and a Free 2 year warranty when you purchase the Sonos PLAYBASE All In One sound system from Powerbutton. Why not check out our amazing Sonos bundles?
Looking for hints and tips on how to get the most from your Sonos device? Watch our "how to" videos here.
WHAT'S IN THE BOX
PLAYBASE
AC power cord
Ethernet cable
Optical audio cable
Quickstart Guide
TECH SPECS
10x Class-D digital amplifiers.
6x midwoofers
3x tweeters
1x woofer
Optical digital output
Weight
18.85 lbs. (8.6 kg)
We Accept: