SAVE £10 WHEN YOU PURCHASE THE COMPLETE BUNDLE (Discount already shown)

Sonos Move and Sonos One Speaker Package Bundle
Sonos Move Features:
Get brilliant Sonos sound anywhere with the weatherproof and drop-resistant Move Portable Wireless Multi-Room speaker. You can control it with your voice, the Sonos app (available on iOS and Android), and Apple AirPlay 2 at home. And you can stream music directly via Bluetooth when Wi-Fi isn't available. Battery powered and durable, it's ideal for both indoor and outdoor listening.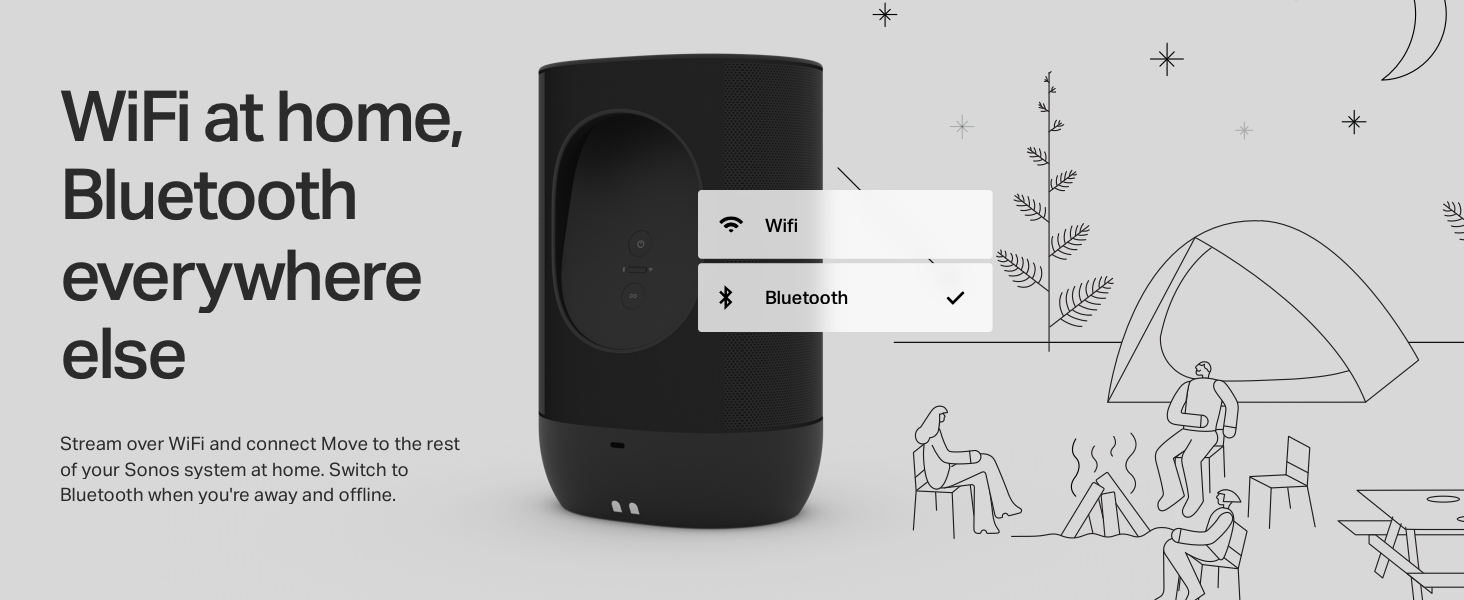 Sonos sound
Experience surprisingly deep bass and a wide soundscape, while automatic Trueplay tuning balances the sound depending on where you are and what you're listening to. Its microphones detect what you're playing and the environment, then automatically adjusts to optimise the sound. Its custom woofer delivers powerful and rich bass for outdoor listening, and you can position Move in front of a wall to radiate and produce even deeper sound.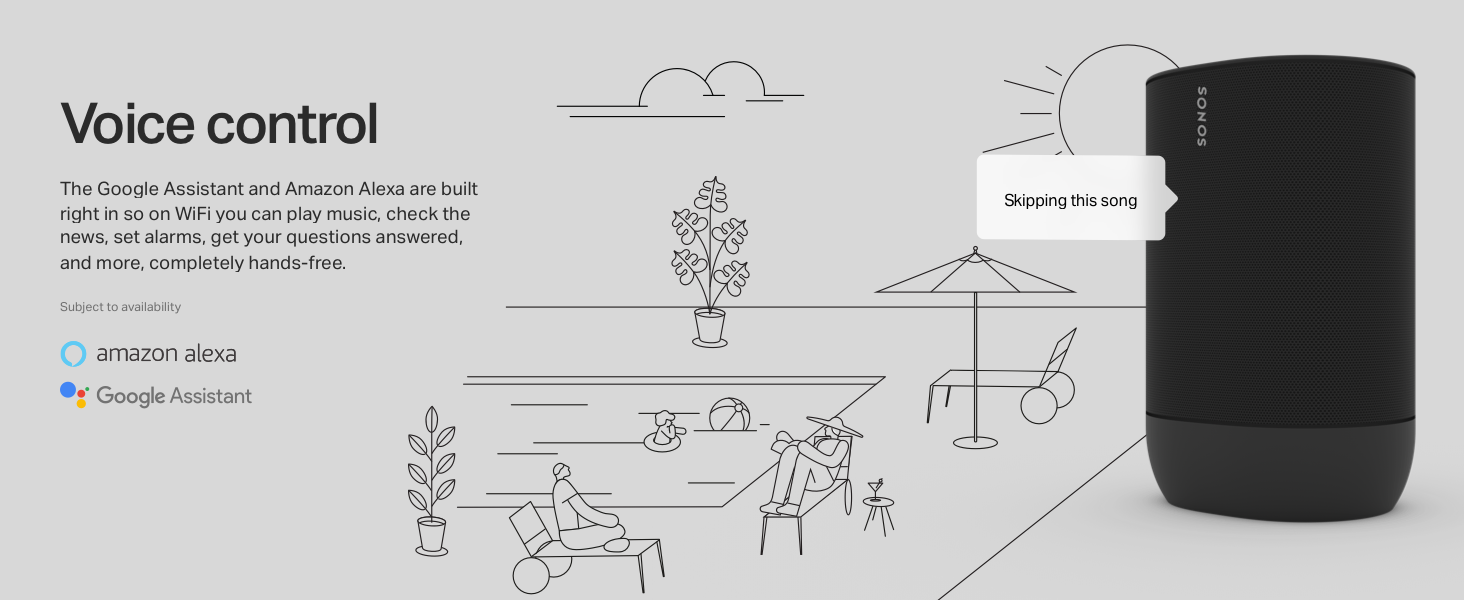 Voice control with the Google Assistant and Amazon Alexa
The Google Assistant and Amazon Alexa are built in so, when connected to Wi-Fi, you can play music, check news, set alarms, get your questions answered, and more, completely hands free. You must be connected to Wi-Fi for voice control, it does not work on Bluetooth.
Bluetooth
When you're away and offline, you can stream music directly over Bluetooth from your smart phone, tablet or other Bluetooth device.
Build your own system
Easily connect compatible Sonos speakers in different rooms over Wi-Fi to create a home sound system that plays music in any or every room.
Easy fingertip control
Responsive touch controls on the top of the speaker make it easy to play, pause, skip, adjust the volume, and group rooms.
Great outdoors
With an IP56 rating, The Sonos Move Bluetooth speaker resists light rain, snow, humidity, dust, salt spray, UV rays and extreme heat and cold.
Grab & go
It fits seamlessly into the included charging base and features an ergonomic handle, making it easy to pick up and carry.
10 hours of battery life
Enjoy up to 10 hours of continuous play time. And you can recharge the Sonos Move Portable speaker easily with the charging base, or a compatible USB-C charger
WHAT'S IN THE BOX:
Sonos Move speaker
AC Power Cable
Ethernet Cable
QuickStart Guide
Legal/warranty information
TECH SPECS:
2x Class-D digital amplifiers
1x Tweeter
1x Mid-woofer
1x 10 hour life rechargeable battery
AC 100-240V, 50-60Hz, universal input
Dimensions (H x W x D)
H24 x W16 x D12.5cm
Weight
3kg
Product Finish
Black with graphite grill
Sonos One Features:
What is new?
BLE (Bluetooth Low Energy) to simplify the first-time setup process only
Increased Memory
Updated Processor
Acoustically the GEN 1 AND 2 versions are exactly the same. Furthermore; Sonos One (Gen 2) will work seamlessly with the original Sonos One as a stereo pair or home cinema surrounds.
GOOGLE ASSISTANT now built-in to the Sonos ONE and Sonos Beam speaker systems.
Control Sonos with your voice
Sonos One Gen:2 Smart speaker twin pack bundle allows you start and control your music with your voice. Amazon Alexa built right in. Use your voice and the Sonos app to control and manage all your music in one place: Amazon Music, Spotify, Apple Music, radio, podcasts and much more.
Control any way you want
Sonos One seamlessly syncs voice, app, and touch commands, enabling you to manage music with a single word, tap of the app, or swipe of the speaker. Combine voice with the Sonos app to manage all your music in one place.
Multi-room listening
Sonos One wirelessly connects to Sonos speakers in additional rooms, allowing you to expand your Home Sound System when you're ready.
Superior sound
Enjoy surprisingly rich, room-filling sound from a smart speaker.
Seamless design
Seamless all-black or all-white colour, smooth matte finish, durable metal grille for an appearance that fits in any home.
Music and much more
Ask Alexa to check news and traffic, set a timer, manage smart devices and other helpful skills using a single Sonos speaker. *Sonos One does not support Alexa voice calling.
Complete privacy
An illuminated LED indicator light ensures you always know when your speaker's microphone is active. Or turned off. Sonos One is designed with extra security — the hard-wire LED connection ensures no one is listening when you want privacy.
Custom Microphone Array
Sonos One is built with custom 6-microphone array to hear you from anywhere in the room, no matter how loud the music is playing. With smart voice capture and noise cancellation, the Sonos One ensures you're heard.
Responsive Audio Chime
Alexa provides an audio chime to let you know Sonos One has heard you and is working on a response.
Proven design
Built on the mini-but-mighty blueprints of Play:1, Sonos One is backed by a pair of Class-D amplifiers and custom-built drivers, meticulously tuned to the speaker's unique acoustic architecture.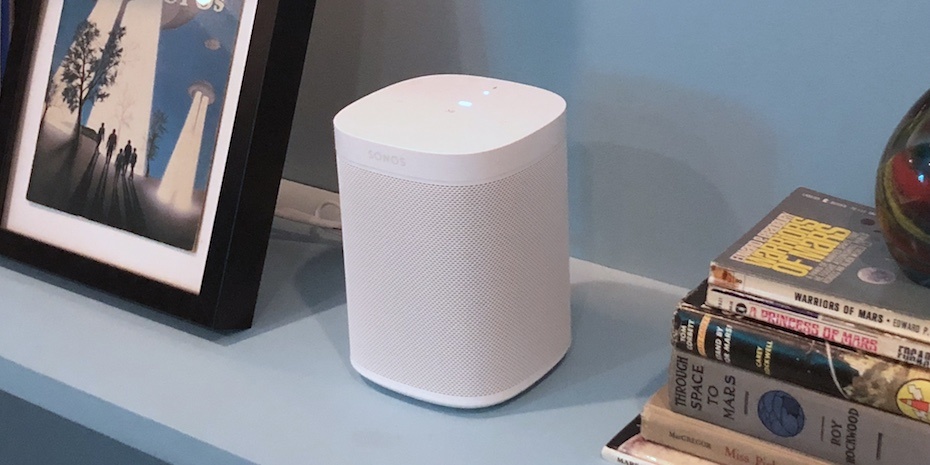 Touch controls
Tap to turn up the volume. Swipe to skip a track. Mute the microphone for privacy. Sonos One's touch controls are always a tap away.
Fits almost anywhere
Its size makes it perfect for bookshelves, counters and snug spaces. Mount Sonos One to the wall, ceiling or a floor stand using third party accessories.
Trueplay speaker tuning
Trueplay fine-tunes Sonos One to ensure you get the very best sound in any room, no matter where you put it.
Modular
Pair two Sonos Ones together in the same room for instant stereo sound; add a Sub for deep bass. Or pair with your TV's Playbar or Playbase for epic home cinema surround sound. Cannot be stereo paired with other Sonos speakers including Play:1.
Add to your Sonos Home Sound System
Sonos One wirelessly syncs with your entire Sonos Home Sound System. Fill separate rooms with different songs. Or group them together to hear the same song throughout the house.
Better over time
Since Sonos is continually updating with new features, services and skills, your music and voice options will both keep getting better over time.
WHAT'S IN THE BOX
2x Sonos One Gen:2 Smart speakers
Power cord
Flat Ethernet cable
Sonos One QuickStart Guide Legal/Warranty information
TECH SPECS
2x Class-D digital amplifiers
1x tweeter
1x mid-woofer
1x 10/100Mbps
6 far-field microphone array
AC 100-240V, 50-60Hz, universal inputWeight