SAVE £98 WHEN YOU PURCHASE THE COMPLETE BUNDLE! (Discount already shown)

Sonos Arc Soundbar & 2x Sonos One (Gen:2) Speaker Bundle
Sonos Arc Soundbar

 FEATURES
The premium smart soundbar for TV, music and more. Enabled by Sonos' powerful new software platform, Arc introduces Sonos's most immersive home cinema experience yet.
Immerse yourself in entertainment and music with rich, realistic 3D sound with support for Dolby Atmos surround.
Arc's acoustic design moves sound around you with an ultra-wide soundstage and impressive bass, delivering dramatic clarity, detail, and depth.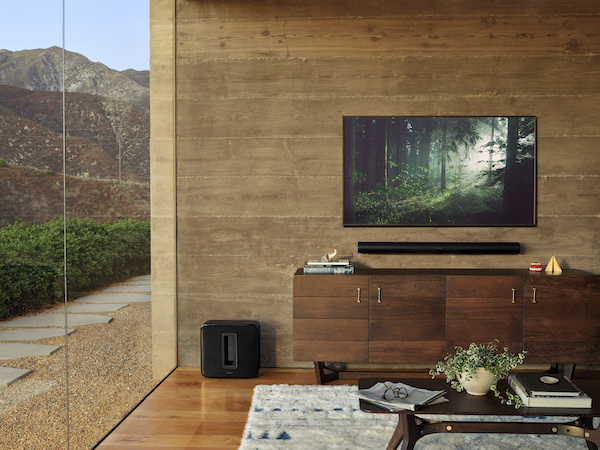 Experience adaptive, software-driven sound tuned perfectly to your space and setup with Trueplay. Arc automatically changes its tuning based on the other speakers you have in your home cinema setup and whether you're listening to music or TV.
Arc's elongated shape and seamless 270-degree curved grille enable multi-directional sound whilst fitting elegantly into your room.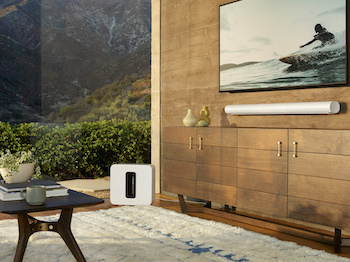 Set Arc in front of a standing TV or mount to the wall with a custom-designed wall mount available for £79. A simple connection through HDMI eARC or ARC keeps setup simple whilst enabling high-quality audio playback.
Enjoy seamless control with the all-new Sonos app, your existing TV remote, your voice with Amazon Alexa or the Google Assistant, Apple AirPlay 2, and more.
Use Arc on its own for a powerful 5.0 or Dolby Atmos listening experience, or expand your setup with the new Sonos Sub and a pair of One SL surrounds for even more immersive entertainment
Audio
Eleven Class-D digital amplifiers
Perfectly tuned to Arc's acoustic architecture.
Eight elliptical woofers
Ensure faithful playback of mid-range and vocal frequencies in addition to rich bass.
Three precisely-angled silk-dome tweeters
Create crisp high frequencies and crystal-clear dialogue.  
Four far-field microphone array
Uses advanced beamforming and multi-channel echo cancellation so your voice assistant can readily respond when activated.
Trueplay software
Dynamically tunes Arc to the unique acoustics of the room. iOS device required.
Adjustable EQ
Settings in the app, including bass, treble, and loudness. 
Speech Enhancement
Emphasises frequencies of the human voice to clarify dialogue.
Night Sound
Reduces the intensity of loud sound effects.
Details
Dimensions - H x W x D
3.4 x 45 x 4.5 inches (87 x 1141.7 x 115.7 mm)
Finish
Black with matte finish / White with matte finish
Status LED
Indicates the speaker and microphone status and adjusts based on the ambient light of the room so as to be visible but not distracting. 
Capacitive controls
Tap to play, pause, adjust the volume, and mute the microphones. Swipe right to skip ahead or left to revisit a track.
Weight
13.78 lb (6.25 kg)
Power and Networking
Power supply
Auto-switching 100-240 V, 50-60 Hz AC universal input.
Ethernet port
1 10/100 Mbps ethernet port. Wire directly to your router if WiFi is unreliable. 
WiFi
Connects to your home WiFi network with any 802.11b/g, 2.4 GHz broadcast-capable router.
Sonos S2
Download the latest generation of the app to set up and control.
Apple AirPlay 2
Works with AirPlay 2 on Apple devices iOS 11.4 and higher.
Idle energy usage
4.3 watts of power in idle mode.
Infrared (IR) receiver
Syncs with your TV remote for streamlined control.
Contents
Arc, Power Cable, HDMI Cable, Optical Audio Adapter, QuickStart Guide, Legal & Warranty Information
Sonos One (Gen:2) Speaker

 FEATURES
GOOGLE ASSISTANT now built-in to the Sonos ONE and Sonos Beam speaker systems.
Control Sonos with your voice
Sonos One Gen:2 Smart speaker twin pack bundle allows you start and control your music with your voice. Amazon Alexa built right in. Use your voice and the Sonos app to control and manage all your music in one place: Amazon Music, Spotify, Apple Music, radio, podcasts and much more.
Control any way you want
Sonos One seamlessly syncs voice, app, and touch commands, enabling you to manage music with a single word, tap of the app, or swipe of the speaker. Combine voice with the Sonos app to manage all your music in one place.
Multi-room listening
Sonos One wirelessly connects to Sonos speakers in additional rooms, allowing you to expand your Home Sound System when you're ready.
Superior sound
Enjoy surprisingly rich, room-filling sound from a smart speaker.
Seamless design
Seamless all-black or all-white colour, smooth matte finish, durable metal grille for an appearance that fits in any home.
Music and much more
Ask Alexa to check news and traffic, set a timer, manage smart devices and other helpful skills using a single Sonos speaker. *Sonos One does not support Alexa voice calling.
Complete privacy
An illuminated LED indicator light ensures you always know when your speaker's microphone is active. Or turned off. Sonos One is designed with extra security — the hard-wire LED connection ensures no one is listening when you want privacy.
Custom Microphone Array
Sonos One is built with custom 6-microphone array to hear you from anywhere in the room, no matter how loud the music is playing. With smart voice capture and noise cancellation, the Sonos One ensures you're heard.
Responsive Audio Chime
Alexa provides an audio chime to let you know Sonos One has heard you and is working on a response.
Proven design
Built on the mini-but-mighty blueprints of Play:1, Sonos One is backed by a pair of Class-D amplifiers and custom-built drivers, meticulously tuned to the speaker's unique acoustic architecture.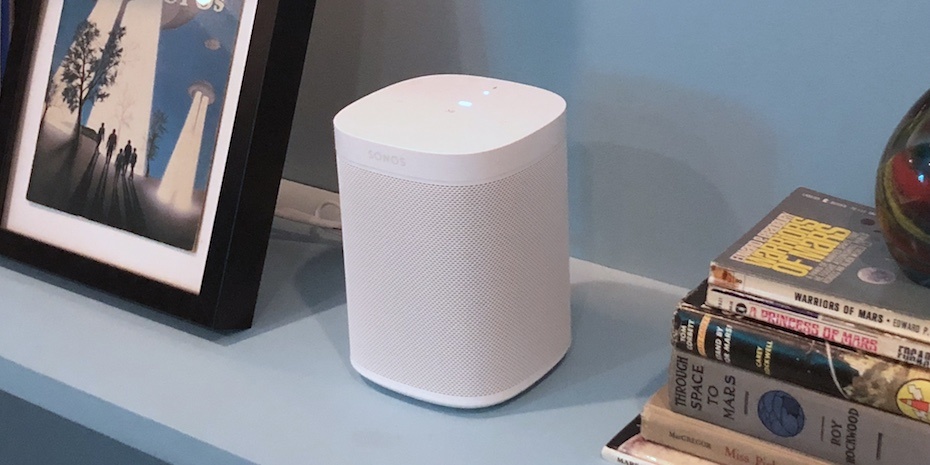 Touch controls
Tap to turn up the volume. Swipe to skip a track. Mute the microphone for privacy. Sonos One's touch controls are always a tap away.
Fits almost anywhere
Its size makes it perfect for bookshelves, counters and snug spaces. Mount Sonos One to the wall, ceiling or a floor stand using third party accessories.
Trueplay speaker tuning
Trueplay fine-tunes Sonos One to ensure you get the very best sound in any room, no matter where you put it.
Modular
Pair two Sonos Ones together in the same room for instant stereo sound; add a Sub for deep bass. Or pair with your TV's Playbar or Playbase for epic home cinema surround sound. Cannot be stereo paired with other Sonos speakers including Play:1.
Add to your Sonos Home Sound System
Sonos One wirelessly syncs with your entire Sonos Home Sound System. Fill separate rooms with different songs. Or group them together to hear the same song throughout the house.
Better over time
Since Sonos is continually updating with new features, services and skills, your music and voice options will both keep getting better over time.
WHAT'S IN THE BOX
2x Sonos One Gen:2 Smart speakers
Power cord
Flat Ethernet cable
Sonos One QuickStart Guide Legal/Warranty information
TECH SPECS
2x Class-D digital amplifiers
1x tweeter
1x mid-woofer
1x 10/100Mbps
6 far-field microphone array
AC 100-240V, 50-60Hz, universal inputWeight
4.08 lbs. (1.85 kg)
Dimensions (H x W x D) per speaker
6.36 x 4.69 x 4.69 in. (161.45 x 119.7 x 119.7) mm